Joseph Campisi's Expertise Sought by Toronto Star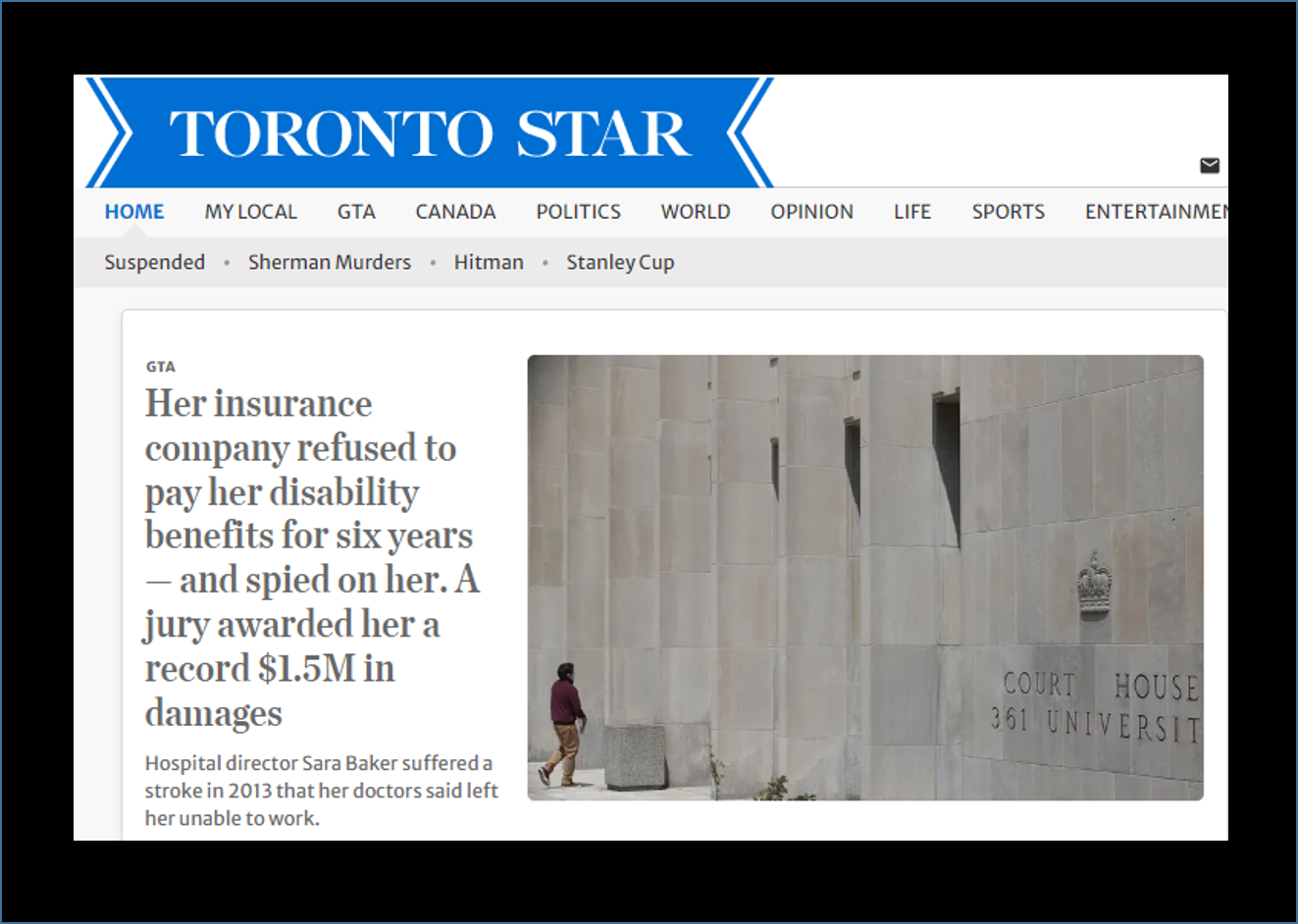 In the June 28th, 2022 article, "Record Damages Awarded in Disability Insurance Lawsuit", leading newspaper The Toronto Star cites the expert opinion of Campisi leader, lawyer, and Osgoode Hall professor Joseph Campisi in a story about a woman who was awarded $1.5 million in punitive damages after 6 years of refusal by her insurance company to pay her long-term disability benefits. According to the article, this amount is "the highest known amount an individual has been given in Canada".
In the context of this recent lawsuit, Courts Reporter Alyshah Hasham sought Campisi's opinion about the legal process, and the tactics utilized by the insurance company, including their insistence on a jury trial. As Campisi has noted before, the use of juries in civil suits adds unnecessary delay and expense to a legal system that is already taxed, with trials currently backed up even further due to COVID impact.
In this case, the trial was scheduled 3 different times, with one delay happening as a result of the insurance company's "insistence" on using a jury. The claimant, Sara Baker talked to The Star about the "distress" she experienced living through her injuries as well as through this process. Notably, the jury awarded Baker "$40,000 in aggravated damages for her mental distress".
While Joseph Campisi was not involved in this case, he remarked to The Star how "striking" it was that the insurance company insisted on having a jury trial, saying,
"For the most part, juries are very conservative and they don't tend to award a lot. So it's almost poetic that it backfired on <the insurance company>."
Click here for more information and to read the complete article.
About Campisi Law
Campisi's personal injury lawyers specialize in injuries resulting from serious vehicle accidents and catastrophic brain and spinal cord injuries. We know that when you're a victim of an accident, everything can seem upside down. You need someone who cares enough to help you through the process, but also someone who's strong enough to battle tirelessly on your behalf. You need an advocate with a heart. We help people across Ontario receive the compensation they deserve, and you don't need to pay anything unless we win. Contact us now for a no-obligation consultation.
Subscribe to our newsletter
Get free insights delivered right to your inbox
Give us your email address and we'll send you the latest information on updates to the legal and insurance system and learn how you can make the best recovery possible.