Campisi Team Now Speaks 24 Different Languages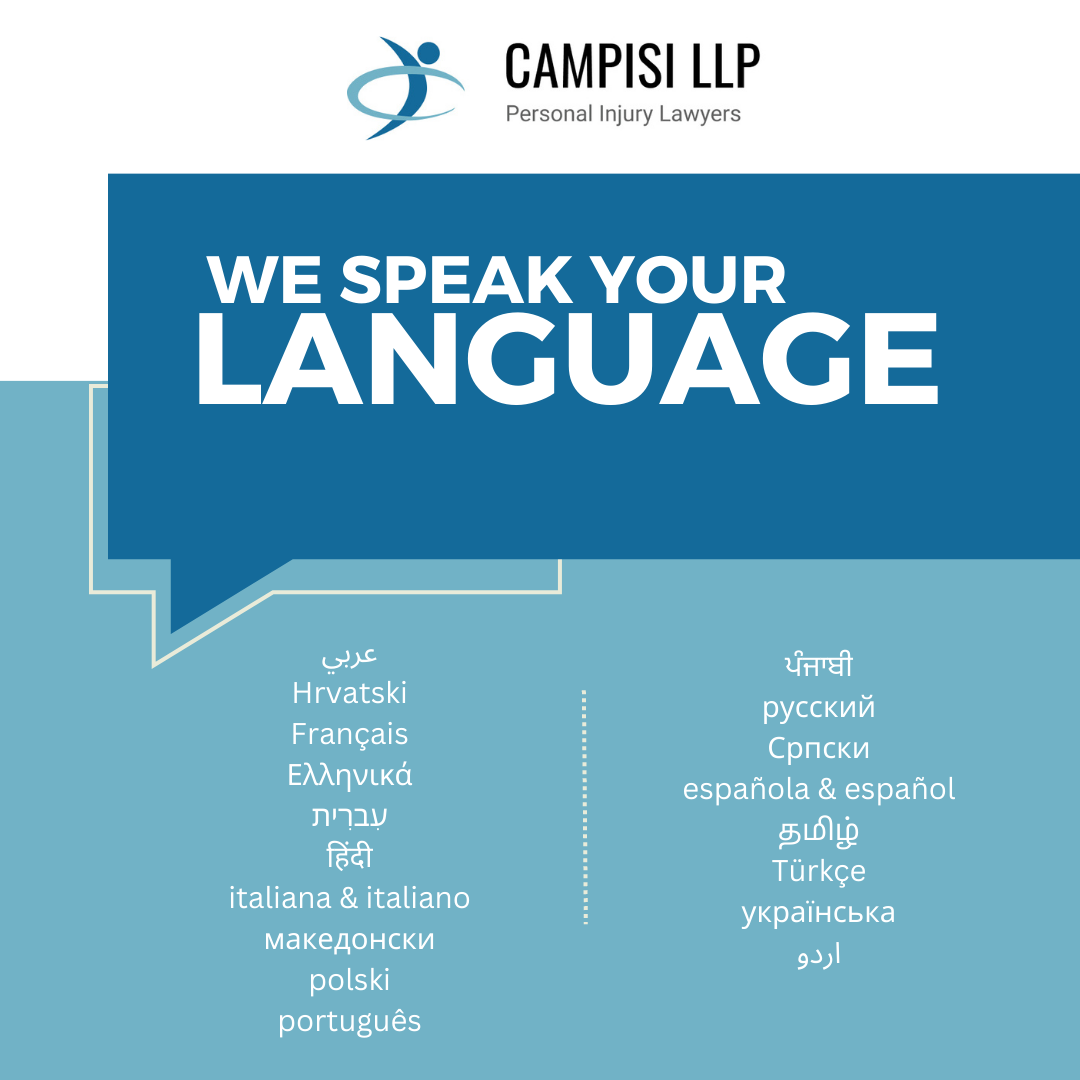 At Campisi, our mission is clients first, excellence always. We understand that facing legal challenges can be even more daunting when language barriers come into play. That's why we're thrilled to announce a new milestone that brings us closer to our clients than ever before. Campisi Law now supports 24 different languages, ensuring that we can communicate effectively and serve you with unparalleled excellence. Join us in celebrating this exciting development and learn how it empowers us to better serve our diverse community.
With our expanded language support, we're breaking down communication barriers and building bridges between our expert legal team and our valued clients. Whether you speak Spanish, Mandarin, Arabic, Punjabi, or any of the other languages we now support, we're here to listen, understand, and advocate for you.
Our commitment to providing exceptional legal services goes beyond language proficiency. We understand that each culture brings its own unique perspectives, values, and sensitivities to the table. With our diverse team of lawyers, we not only speak your language but also embrace your cultural background. Our aim is to create an environment where you feel understood, respected, and confident that your case is being handled with the utmost care.
Legal matters are rarely one-size-fits-all. Every case is unique, and your specific circumstances deserve tailored solutions. With our multilingual capabilities, we can delve into the intricate details of your case directly in your preferred language. This means that nothing gets lost in translation, and every nuance is carefully considered. If you're facing a personal injury claim, our ability to understand you on a linguistic and cultural level enables us to craft the best possible strategy for your situation.
Campisi Law's expanded language support doesn't just benefit you in the consultation room – it opens up a world of resources and expertise. Our team's diverse backgrounds and linguistic abilities give us an advantage in connecting with local communities, understanding their needs, and accessing specific resources. From medical experts to accident reconstruction specialists, we tap into a global network while providing you with the personalized, locally grounded representation that you deserve.
When you're navigating the legal landscape, having a strong voice is crucial. With our multilingual team, we're not just your advocates in the courtroom – we're your translators, your cultural liaisons, and your partners in seeking justice. We empower your voice by ensuring that your story, your concerns, and your goals are accurately conveyed and comprehended. You can participate in your legal journey with confidence, knowing that you're fully understood and supported.
About Campisi Law
Campisi's personal injury lawyers specialize in injuries resulting from serious vehicle accidents and catastrophic brain and spinal cord injuries. We know that when you're a victim of an accident, everything can seem upside down. You need someone who cares enough to help you through the process, but also someone who's strong enough to battle tirelessly on your behalf. You need an advocate with a heart. We help people across Ontario receive the compensation they deserve, and you don't need to pay anything unless we win. Contact us now for a no-obligation consultation.
Subscribe to our newsletter
Get free insights delivered right to your inbox
Give us your email address and we'll send you the latest information on updates to the legal and insurance system and learn how you can make the best recovery possible.