Accident Benefits Newsletter - Paediatric Brain Injury Victim Denied CAT Determination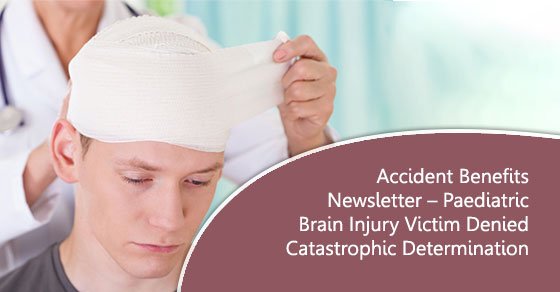 Generally, the June 1, 2016 Amendments to the Statutory Accident Benefits Schedule have made it more challenging for car accident victims to qualify for a determination of catastrophic impairment (catastrophic). The declared legislative intention is that the amendments were introduced to promote clarity in the catastrophic criteria, with the ultimate goal of providing more efficient and cost-effective resolution of these claims. However, from the claimants' perspective, these goals appear one-sided in favour of the insurance industry. With fewer claims leading to a catastrophic finding, insurer payouts are reduced. At the same time, the greater challenges to a successful catastrophic determination operate as a disincentive to claimants, their care providers and legal representatives.
These issues are raised regarding the catastrophic Paediatric Brain Injury criteria in18-001468 v. Certas, a recent, unreported decision of the Licence Appeal Tribunal (LAT). The claimant was 13 years old when he was struck by a car on Halloween in 2016. He suffered a fractured right femur and appeared to have struck his head, although he did not believe he lost consciousness. EMS personnel recorded the claimant's Glasgow Coma Scale results as 15/15 on three successive occasions, indicating that he was within normal ranges of response.
On admission to the Hospital for Sick Children, the claimant's leg injury was treated. A CT Scan of his head that identified no abnormality was performed on November 1, 2016. There was no evidence of ongoing concussion symptomology during his stay at the hospital until discharge on November 8, 2016.
However, post-discharge, the claimant began experiencing concussion symptoms and attended a rehabilitation hospital on November 21, 2016 on an outpatient basis. He received treatment for a mild traumatic brain injury (TBI) at this facility, and additional diagnostic imaging was ordered. He was discharged from treatment on December 31, 2016.
On February 22, 2017, the claimant attended for an MRI and a Single-Photon Emission Computed Tomography (SPECT) scan. These technologies are more sophisticated than traditional CT and can detect more subtle signs of brain injury. SPECT scans are often crucial for detecting mild TBIs. They can produce images of hemosiderin, a residue left behind temporarily by mild brain injuries.
The claimant's MRI was normal, identifying no acute intracranial mass haemorrhage or infarct. However, the SPECT scan confirmed the presence of hemosiderin, and provided objective evidence that the claimant had suffered a mild TBI.
Under the post-amendment SABS, a claimant under 18 years of age at the time of the accident will be deemed catastrophic if he or she suffers a TBI that meets several specified criteria, including
The insured person is accepted for admission, on an in-patient basis, to a public hospital named in a Guideline with positive findings on a computerized axial tomography scan, a magnetic resonance imaging or any other medically recognized brain diagnostic technology indicating intracranial pathology that is a result of the accident, including, but not limited to, intracranial contusions or haemorrhages, diffuse axonal injury, cerebral edema, midline shift or pneumocephaly.
The claimant had been admitted on an in-patient basis to Sick Kids and had positive findings on the SPECT scan. Therefore, he submitted an Application for Determination of Catastrophic Impairment (OCF-19) to Certas, the responsible Accident Benefits insurer.
Certas denied the application, stating that the positive finding needed to be from a test conducted while the claimant was an in-patient at the hospital of record, and not from a test performed several months after the collision. The applicant insisted that he had met the three parts of the test: being admitted on an in-patient basis to a public hospital; having a positive finding indicating intracranial pathology; and having the positive finding on a medically recognized brain diagnostic technology.
At the LAT hearing, the claimant argued that the SABS was consumer protection legislation. This meant that the subsection should be read in such a way as to promote the protection of children with brain injuries by providing access to enhanced catastrophic benefits for ongoing rehabilitation and care. Certas claimed the opposite, that the clear intent of the amended criteria was, "to reduce the number of individuals who would be found to qualify for catastrophic impairment with respect to a brain injury."
The tribunal found in favour of Certas. After acknowledging that the amendments would, in practice, make it more difficult for claimants to qualify for catastrophic, it justified the decision based on presumed legislative intent, "to make the process more accurate, consistent and objective... speed up determinations and reduce transaction costs and disputes".
Impact
Hopefully, counsel for the claimant has initiated the appeal process to challenge this result. As it stands, the decision is a major blow for victims of mild TBIs. CT Scan is the standard diagnostic imaging technology used to screen for brain injury in public hospitals. It will rarely, if ever, identify a mild TBI. MRI will only be ordered in the face of ongoing symptoms for mild and sometimes even moderate TBIs. The wait for non-emergent MRI can be months, and even then, it does not reliably identify mild TBI. SPECT is still a new and relatively scarce technology. While it can be used to detect mild TBIs, it is expensive and is only available at select facilities. Again, it is only ordered after the fact and has significant wait times.
It is highly unlikely that a child admitted as an in-patient with concussion symptoms will ever have access to a SPECT scan.There are other, less direct means through which a child can qualify as catastrophic with a mild TBI, including:
Admission, on an in-patient basis, to a program of neurological rehabilitation in a paediatric rehabilitation facility; or
Demonstrating after nine or more months post-collision that he or she is not age-appropriately independent and requires in-person supervision or assistance for physical, cognitive or behavioural impairments for the majority of the waking day.
However, neither of these criteria is typically associated with the functional impairment of a mild TBI victim. So, effectively, the LAT has endorsed the insurance industry's position that the amendments were intended to exclude an entire class of paediatric brain injury victims and limit costs to the insurers.
If your child has suffered a traumatic brain injury in a car accident, and you have questions related to this decision or your child's accident benefits claim, we are pleased to offer a free consultation. Put Campisi LLP to work for you - Clients First, Excellence Always!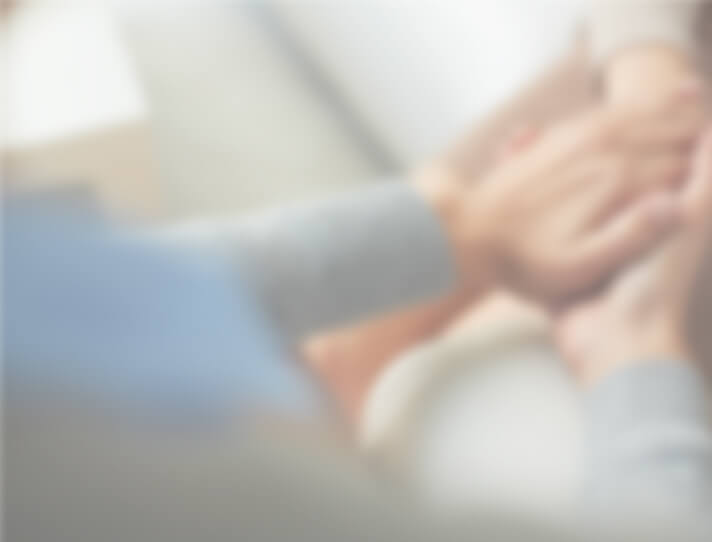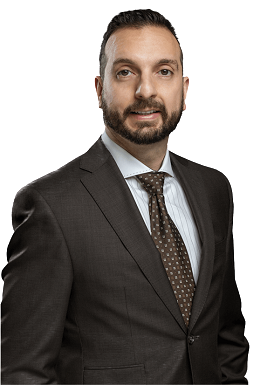 Have you been seriously injured in a car accident?
Put our expertise to work for you.
If you or a loved one has been seriously injured, you need a personal injury lawyer who puts client care first and who also knows how to navigate the complex legal system.
Contact Us Now
Subscribe to our newsletter
Get free insights delivered right to your inbox
Give us your email address and we'll send you the latest information on updates to the legal and insurance system and learn how you can make the best recovery possible.